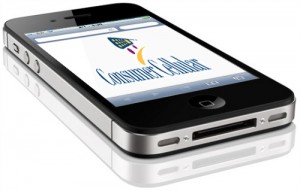 A few years ago I wrote a post on using the iPhone with Consumer Cellular. A lot of people commented on it so in this post, I'll sum it up for people looking to use this excellent priced voice and data service on the excellent iPhone or iPad!
1. Is this Right For Me?
If you expect technical support from your cell phone provider for your phone (the actual device), this is probably not a good idea for you. The moment you tell Consumer Cellular that you are using an iPhone or an iPad, they will likely tell you that they cannot provide support. If you are ok with this, I lower my staff of warning and allow you to pass into a world of greater freedom. After over 2 years of using an iPhone with Consumer Cellular, I've never had to call them for support on anything except to enable my data plan (see step 4).
You must have a GSM (the AT&T version) iPhone or iPad for this to work. How do you check? Look for the sim card tray on the top or on the side of the device. It will have a small pin hole used to eject the tray.
2. The Sim Card
If you are planning to use the iPad, or the iPhone 4 or newer, you'll need to cut your sim card down to the size of a micro sim card. There are plenty of articles on the web about how to do that. I won't cover it here because it's quite easy to do.
3. Voice and Text
The good news is that you don't need to jailbreak or unlock your iPhone or iPad to use it on Consumer Cellular! Their service rides on AT&T's network.  so devices automatically activate when the sim card is inserted.  You may need to connect to iTunes the first time you activate your device.  But after that, Voice and Text (SMS) just work. If you desire to get data working you'll need to take a few more steps. If you don't care about data, you're done!
4. Enable Data with Consumer Cellular
If you purchased a Consumer Cellular phone that supports data, you can skip this step. If not, your sim card needs to be provisioned for data. Basically, Consumer Cellular needs to flip a switch on their end to activate data for you. Login to the Consumer Cellular website to see if this is already done for you.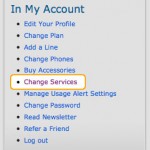 After you login, click the Change Services link on the right side of the page.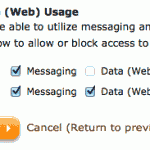 Scroll down a bit to the "Messaging and Data" section. If data is enabled for your sim card the Data (Web) checkbox will be checked.
If you previously used a Consumer Cellular phone that didn't support data or it does not appear to be activated on their website, you can call customer service (1-888-345-5509) and let them know that you've purchased a used AT&T phone which supports data and ask them to enable data for your sim card. If you tell them it is an iPhone/iPad you will likely be denied. Since the original writing of this article, Consumer Cellular has begun reselling the iPhone 3G so there should be no issues here but it may take a day or so for the provisioning to go into effect.
5. Enable Data on Your iDevice
The easiest way to enable data is to visit unlockit.co.nz from Safari on your iPad or iPhone. Note that the site looks very different on a desktop so you have to visit it from your iDevice. When you browse to the site, you'll find that it's a simple step-by-step wizard. We're going to change your APN or Access Point Name to the correct address for Consumer Cellular.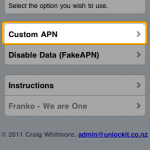 Open the site on your iDevice and select Custom APN to change the address of your data network.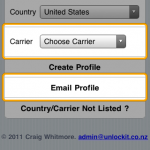 Select Consumer Cellular as the carrier and then tap Email Profile.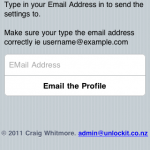 Enter your iPhone or iPad email address and tap Email the Profile. This email must be opened on your iDevice to continue.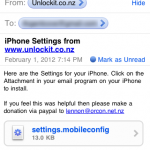 Open the email that was sent to you and tap the settings.mobileconfig attachment.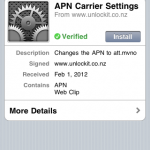 Tap Install to install this profile and update your APN.
After the profile is successfully installed, you may need to toggle airplane mode on and then back off again. Do this from from the Settings app (Settings > Airplane Mode). In some instances you will need to power down your iDevice completely and then power it back up.
Should you ever need to uninstall the profile, you can find it in the Settings app (Settings > General > Profile).
Ensure that you've enabled data in the Settings app (Settings > General > Network). Turn on Enable 3G and Cellular Data. If you are in an area where the 3G network is not good, you should still be able to use the old Edge network by disabling 3G. It is much slower but also consumes less power.
You can test your cellular data by disabling Wi-Fi (Settings > Wi-Fi > Wi-Fi).
6. MMS
At this point, everything should be working except for MMS (Picture and Video messaging). Unfortunately this is where things get more complicated. If you wish to enable MMS, your iDevice must be jailbroken and you will need to install the appropriate version of the CommCenter Patch. Then you will need to manually update the remainder of the data network profile settings in your Carrier.plist file. You can find more information on this topic at my previous post.
7. Consider a donation
I hope this post saves you a lot of money on your cell phone service! Leave a comment and let us know about your experience with Consumer Cellular on your iDevice!
If this saves you money, please consider donating. This will allow us to continue to provide quality content.